Ted's New Book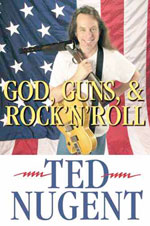 Why depend on gomers to hear what Ted thinks when you can get it straight from the wild man himself by ordering GGRR online or by calling 1-800-343-4868 today? You can even read the first two chapters right here.
Want more? Go here and listen to a 26 minute "Yahoo" interview of the flamethrower that is our beloved Uncle Ted.
_______________
Vegetarian: Indian for crappy hunter
_______________
"If a man will tell you that he is the chief of his teepee...... he will lie about other things as well." - Unkown
Your Article Here!
Please submit your own article here.
let us know what you would like to see here
CHECK OUT THE TAPPED INTERVIEW DOWN ON THE LEFT FROM HERE CLICK TO LISTEN
<<<<<<<HERE IT IS
THIS IS WAY GOOD STUFF TO CONTEMPLATE
FOOD FOR THOUGHT
Stories of Interest
_______________